Pedestrian Killed Walking on Spaghetti Junction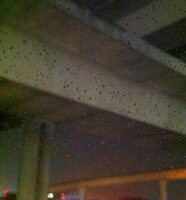 We we drive around in Atlanta, we try to avoid hitting the ramps of Spaghetti Junction. If at all possible, we'll take the surface roads to go from Buford Highway to Jimmy Carter and then pick up I-85 from there. Better still, we'll take Peachtree Industrial. It's difficult to think about the circumstances surrounding the need to walk on the roadway.
Unfortunately, we'll never know the details which surround why Saquena Williams of Doraville was walking around that area. She was killed in a hit-and-run, and her body was not discovered until 8:40am.
Employees at an nearby office park got a tragic surprise when they were heading in to work near I-285. Police Captain Steven Fore of the DeKalb County Police Department said, "Her injuries appeared consistent with those that would be sustained from being struck by a motor vehicle." In truth, there's a high likelihood that we'll never find out exactly what happened.
"Exact cause of death will be determined by the medical examiner's office," he continued.
Strangely enough, there was another hit and run pedestrian accident which happened about 10 minutes before Ms. Williams' death was reported. It was in the northbound lanes of I-285 around Memorial Drive. In every report about pedestrians being hit and even killed, there is a story which must be told. Here at our Atlanta personal injury firm, we try to see the whole picture before making any judgments.
If you have been injured, don't hesitate to give us a call. With every moment that you let pass, your rights are slipping by.