How to Know If You Need a Work Injury Lawyer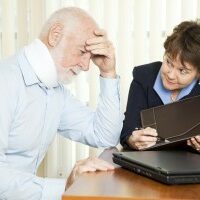 Table of Contents:
Hiring a Work Injury Attorney
A work injury can happen when you are using company machinery or if you slip and fall while on company premises. Some work injuries can cause you to miss work or even be hospitalized. Unfortunately, matters like these will most likely be accompanied by escalating costs on your part for medical bills. Worse, the situation may not only personally affect you, but can also mean the loss of the primary income of your family. If you will try to enforce your work injury claim against your employer, you will most likely be scrutinized heavily and, in some occasions, may even be unfairly accused of exaggerating your claim or that your claim is tainted with fraud. At the end of the day, you must keep in mind that it is not in the financial interest of your insurance provider to compensate you, so they will do everything in their power to deny your claim.
Hiring an expert attorney if you have been injured on the job is essential and crucial if you want to ensure that your injury claim will not be denied by either your employer or their insurance providers. The first thing that you should do immediately upon suffering a work-related injury is speak with a lawyer in order preserve your rights and claims. While some employers and insurance providers do pay out worker's compensation benefits if you bring your situation to them, it is a more common occurrence for employers and insurance providers to be reluctant and hesitant when it comes to entertaining any work injury claims.
Work injury lawyers are known for their tenacity and ability to navigate through the legal maze and requirements so that you can pursue a claim from your worker's compensation benefits in a better and more practical manner. Moreover, having a lawyer by your side will make your employer and insurance provider take you seriously.