Georgia State Police Still Searching For Hit-and-Run Driver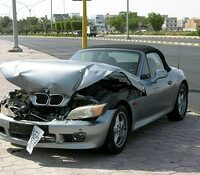 It is an unfortunate reality that accidents can happen anywhere and at any time. In large metropolitan areas this is especially true. With increased population come more people, more cars, bicycles and commuters that are trying to make their way through the day.
The Georgia State Patrol is still currently searching for a driver who fled the scene of a crash. According to officials, the driver fled the scene of an accident involving a BMW hitting an Audi on John Wesley Dobbs NE and Peachtree Street NE on Monday, April 13th.
Witnesses say that the BMW was traveling at excessive speed when it struck the other vehicle. Some reports indicated that the impact could be heard from more than 25 floors up in nearby buildings in the area.
Even though an accident is a horrible thing to have to face and own up to, never be tempted to flee the scene. Whether it is fear or another factor that gives the instinct to fight or to fly, a charge of hit and run can lead to criminal charges being leveled at the person who is responsible. It is illegal to leave the scene of an accident without exchanging insurance information. It is also a requirement to stay and render aid if there are nay victims who are hurt.
If you are the victim of a hit and run accident, the Law Offices of Stokes and Kopitsky will help to insure that the person responsible will receive maximum punishment and you will receive maximum compensation. We specialize in helping our clients to recover things such as medical bills, property damages, lost wages, pain and suffering and punitive damages.
If this describes your situation, or that of a loved one, give our offices a call. Our legal professionals will take the time to go over the details of your case and will diligently work to make certain that you are compensated for your accident and justice is served. We are here to help you, and your initial consultation with our lawyers is confidential and without cost or obligation to you.