1 Dead, 2 Injured in NW Georgia Accident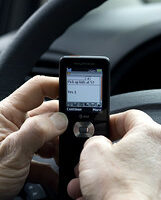 There are many factors that go into the making of an accident. All too often, one of those factors is neglect or carelessness. It only takes a moment of distraction to cause a crash that can alter lives forever. Some of these accidents result in only minor injuries, while others have tragic outcomes, but one thing remains the same — the victims deserve compensation for the harm done to them. They should never have to pay for the damages caused by someone else's mistake.
Distracted driving is the one of the reasons for a crash in Rome, Georgia, which killed a 7-year-old girl and injured her mother and younger brother.
According to an accident investigator, the 34-year-old woman was driving when she reached down to get something her daughter dropped. Authorities say the woman's moment of distraction caused the car to veer off the road and hit a utility pole. The woman's 7-year-old daughter was pronounced dead upon reaching the Floyd Medical Center. Police say the girl's mother and 3-year-old brother are in fair condition.
Authorities are currently investigating the crash.
After an accident, you need someone who understands what you're going through. We understand at Stokes & Kopitsky, and more than that, we can help you through this difficult time in your life. Contact us today for a free consultation. You don't need any money for our assistance and any fees will be paid from the settlement you receive.