Automobile Crashes at Night are Different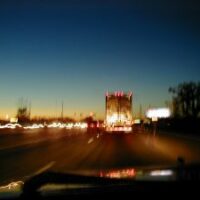 Our vision at night is completely different from our vision during the day. At night, we see red as black, and red vehicles blend into the dark. When a red vehicle without lights or reflective markings blocks traffic at night, it poses a great danger to other drivers.
At our Georgia injury law firm, Stokes & Kopitsky, P.A. we handled a nighttime accident case where the driver was killed and her two children were seriously injured. Our clients' car drove over a hill and crashed into the side of a red tractor-trailer being backed onto the highway in the dark. The trucking company refused to pay the claim, saying the accident was the fault of the driver who ran into the trailer.
The tractor part of the truck had reflective tape on it. However, the trailer behind it was covered with red canvas and had no reflective tape on the side. A photograph taken by the police at the accident scene showed that in the dark, the red trailer appeared black and blended into the night. When the driver came over the hill, she would have been able to see the tractor on the left side of road, but not the red trailer, which was sideways, blocking the right side of the road to oncoming traffic.
We flew to Pennsylvania and hired an expert on night vision, a psychologist who specialized in perception. He demonstrated that at night, people see red as black. This expert's proof was so powerful that it convinced the insurance company that it could not win this case at trial. Two weeks before the trial was to begin, we recovered a multi-million dollar settlement for our clients, the victims of this tragic accident.
If you have been injured in an accident and have any questions about who was at fault, please call Stokes & Kopitsky, P.A. toll-free at 800-700-5050.
We are experienced Atlanta injury attorneys and are here to help you. Our telephones are answered 24/7 and there is no charge for you to consult us. We advance all costs, and there are no fees unless and until we obtain a settlement or court award for you. Please call us toll-free at 800-700-5050 for the experienced, highly qualified legal help you need for a serious injury case.