Accident Involving 5 Vehicles on I-75 Leaves 2 Dead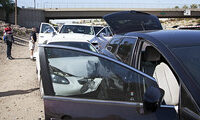 We rely upon laws and drivers who follow them to keep us safe on the roads. Unfortunately, not everyone follows the laws to the best of their ability. Even when they do, accidents can come out of nowhere, causing damage to property and injuries that take us away from work and family. The fallout is not only physical and emotional, but financial, as well. There is a solution for those times when an accident seems like it will just cost too much to ever imagine recovery – legal compensation.
A five-car crash close to the Florida-Georgia state line resulted in the deaths of two people and injuries to more than a dozen more.
According to Florida State Patrol, a driver going the wrong way on I-75 was the cause of the accident, which included a Greyhound bus among the vehicles caught up in the wreck.
The driver who caused the accident was killed, as was the driver of one of the other cars. It is unknown, as of yet, if alcohol was part of the reason the driver was going the wrong way in the first place. Each of the surviving drivers voluntarily had their blood drawn at the scene.
Thirteen passengers on the bus were taken to the hospital to be treated for minor injuries, according to troopers.
Greyhound sent out another bus to take their passengers to Atlanta.
It's the nature of accidents to come out of nowhere, which makes preparation impossible. No one can be ready for the often massive costs associated with them. The legal team at Stokes and Kopitsky can help. Call us today for a free consultation. Our fees will come out of your settlement, which means you won't need any money to hire the best legal assistance Atlanta has to offer. We will fight hard to get you the compensation you need.