High-Speed Police Chase of a Carjacked Cab Ends in Crash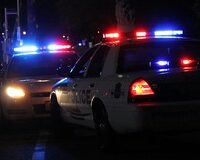 Accidents are a part of life, but far too many of them are caused because someone else was negligent or actively pursuing dangerous activities. In these cases, there is an obligation on the part of the one who caused or permitted the accident to happen toward the victim. Legal compensation is the means to make sure the responsible party pays for the harm inflicted to make sure the victim is not financially ruined due to the mistake or misdeeds of another.
A carjacking couple from western Georgia has been arrested after leading police on a chase into Alabama, police say.
The male half of the carjacking duo was put into Carroll County Jail for several traffic violations and the possession of firearms. No bond was posted. The status of his female partner is currently unknown.
According to a Corrollton police captain, a couple called for a cab to pick them up at their home. This home was on fire at the time the cab was called. The pair then went to a local McDonalds, where they robbed the driver with a gun and stole the car.
Police say the stolen car was driven onto Interstate 20 and they were chased by police until they crashed in Helfin, Alabama. According to the police captain, the woman was airlifted to a hospital, while the man and a child were both taken to be treated at a hospital by ambulance.
Authorities report the carjacking and the fire that occurred when the whole thing began are still under investigation.
If you or a loved one have suffered personal injury due to the recklessness or negligence of another, you deserve compensation. We'll help you get it at Stokes and Kopitsky. Call us free of charge any time, day or night. You won't be charged to hire our services, and our fees will be paid from any settlement you receive