Your Local Atlanta Bike Shop – A Cyclist's Key to Safety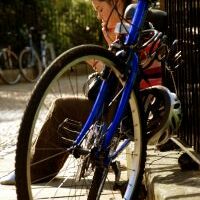 Bicycling safety starts with your local bike shop. Here are just a few of the ways the bike shop can make cycling safer for you:
1. First, your local bike shop can tell you where and when the local rides are for people of your speed and experience level. Cycling will be both more enjoyable and safer if you ride with a group of people who are at your level. Racing cyclist and Georgia injury lawyer Neil Kopitsky, who has represented bicyclists injured by motorists for over fifteen years, says he has never had a case where a cyclist who was riding with at least three or four other people was hit by a motor vehicle. There is absolutely safety in numbers, and knowing where to find organized rides that fit your level of riding speed and experience is the first step.
2. Second, your local bike shop can make sure your helmet fits correctly, so it can protect you from head trauma if you are in a collision. Bike shops are experts on helmet fit.
3. Your bike shop can help you select a good bike that fits you. A bike that is too big is very dangerous, so a good-fitting bike is essential.
4. Bike shop "toys" – non-essential items – can sometimes make a big improvement in your safety. Here's an example: recently, attorney Kopitsky bought a USB rechargeable LED bike light when he was in a shop that sponsors his bike team, Peachtree Bikes. Since these lights are rechargeable, they can help you avoid the danger that comes about when you are riding at dusk and try to turn on your light for visibility, only to discover that you had left the light on at an earlier point and the battery is now dead. The USB rechargeable lights are very bright, you won't lose them because they will be on your bike, and you'll be charged and ready to go when you find that night has fallen before you've finished your ride. You won't be caught out after dark with no functional light due to a dead battery.
Accident attorney Neil Kopitsky has been racing bicycles for decades and is particularly knowledgeable about all types of bicycle technology and bicycle-motorist accidents. During the past fifteen years, he has successfully represented many, many bicyclists who have been injured by the negligence of motorists.
At Stokes & Kopitsky, P.A. we answer our phones 24/7. We offer a free first consultation, and if we accept your case, we advance all costs. Our fees and the costs are paid from the settlement we obtain for you, and if there is no settlement or court award, there are no fees. Please call Stokes & Kopitsky toll-free at 800-700-5050 for skilled, experienced, caring legal help if you have been injured in a bicycle-motorist accident, or any other accident that was not your fault. Please also call us if you have any questions about bicycling legal issues; we would be glad to speak to you.
Categories: