Two Killed, One Critically Hurt in Negligent Gwinnett County Tractor-Trailer Crash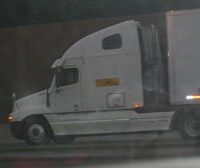 A tragic semi-truck accident in Gwinnett County has left two people dead and one seriously injured. According to Gwinnett County Police Sergeant Brian Doan, the accident occurred when the driver of a PT Cruiser that was headed west on Shawnee Industrial Boulevard turned in front of a big rig headed north on Satellite Boulevard. The tractor trailer then apparently left the roadway and struck a number of trees prior to coming to a stop. Sadly, both the 20-year-old driver of the PT Cruiser and the 25-year-old front seat passenger were killed in the automobile wreck. Rescue crews reportedly transported a third passenger, a 31-year-old man, to a local area hospital with critical injuries. The driver of the semi-truck was not injured in the deadly crash.
Although the exact cause of the fatal collision is currently under investigation, police do not believe speed or driver impairment played a factor in the incident. In addition, no charges are expected to be filed against the truck driver in connection with the wreck. At this time, it is unknown whether those killed in the collision were wearing a seat-belt.
Despite that it appears the tractor-trailer driver did not cause this crash, big rig accidents that result from commercial driver negligence happen frequently on roadways across Georgia and the rest of the nation. In fact, more than 500,000 accidents involving a semi-truck or other commercial vehicle occurred in 2010 across the United States. In addition, more than 100,000 people were hurt and approximately 5,000 individuals were killed in those crashes. Due to the extreme weight and size of an 18-wheeler, any accident involving a semi can be serious or deadly.
Semi-trucks and other commercial vehicles that travel on the roadways in the State of Georgia and the rest of the country are regulated by both federal and state trucking laws. Trucking regulations provide a framework of liability for tractor-trailer drivers and the companies they work for. Because of such laws, 18-wheeler accidents normally involve unique pieces of evidence that are not available in other motor vehicle collisions. For example, on-board computers, driver logs, and other required documentation can help accident investigators determine the cause of a semi crash.
The victim in a commercial vehicle wreck may be entitled to receive financial compensation for their medical costs, lost benefits and wages, any resulting disability, suffering and pain, and a variety of other damages. In addition, certain relatives of someone who was killed as a result of a semi-truck driver's negligence may also be eligible to receive compensation for the costs associated with their loved one's funeral. If you were injured or lost a treasured family member in an accident with a big rig, you are advised to discuss your rights with a quality Georgia personal injury attorney.
Please give the hardworking lawyers at Stokes & Kopitsky, P.A. a call toll free at (800) 700-5050 if you were hurt or someone you love was killed in a Georgia truck accident. Our skilled Gwinnett County personal injury attorneys have more than 30 years of experience assisting people who were harmed as a result of someone else's negligence. At Stokes & Kopitsky, our caring lawyers will help you recover the damages you deserve based upon the severity of your injuries. Our hardworking attorneys are ready and willing to explain your rights and help you file your personal injury or wrongful death claim. To schedule a free confidential case evaluation with a knowledgeable advocate, do not hesitate to contact lawyers Greg Stokes and Neil Kopitsky through our website.
More Blogs:
OSHA Investigating La Grange Manufacturing Plant Following Worker's Untimely Death, The Atlanta Personal Injury Attorney's Blog, August 5, 2013
One Child Killed, Several Others Ejected in Negligent Henry County Traffic Crash, The Atlanta Personal Injury Attorney's Blog, July 8, 2013
Additional Resources:
Gwinnett police identify two killed in wreck, by Mike Morris, Atlanta Journal-Constitution
2 killed in Gwinnett Co. crash, wsbtv.com
Photo credit: dee, morgueFile