Police Looking for Vehicle Involved in Death of Man Changing Tire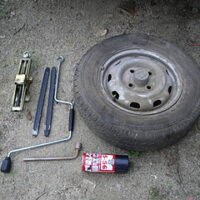 Changing tires on the side of the road is extremely dangerous. Although most drivers do try and move over to the next lane there are times it is impossible.
A 53-year-old Alpharetta man became a victim in what police think was an accidental killing on the highway while he was changing his tire. Officials are searching for a vehicle and trailer that was captured on the car camera of a Lamar County Sheriff's vehicle.
Investigators do not believe that the driver of the vehicle hauling the trailer even knew the accident occurred but they would like to talk to the owner of a dark colored pick-up trick pulling a flatbed trailer.
If faced with the situation of a flat tire on the highway there are things that you can do to help ensure your safety. The National Safety Council offers the following tips for someone with tire trouble.
At the first sign of tire trouble, grip the steering wheel firmly.

Don't slam on the brakes.

Let the car slow down gradually by taking your foot off the gas pedal.

Work your vehicle toward the breakdown lane or, if possible, toward an exit.

Turn your emergency flashers on.

Once off the road, put out reflectorized triangles behind your vehicle to alert other drivers. Keep your emergency flashers on. If you know how to change a tire, have the equipment and can do it safely without being near traffic, change the tire as you normally would.

Raise your hood and tie something white to the radio antenna or hang it out a window so police officers or tow truck operators will know that you need help.

Don't stand behind or next to your vehicle. If possible, stand away from the vehicle and wait for help to arrive.

Get your vehicle completely away from the roadway before attempting to change a tire.

Tackle changing a tire only if you can do so without placing yourself in danger.

Finally, the Council recommends that you have a qualified mechanic check your vehicle after having a flat tire to be sure there is no residual damage from the bad tire or the aftermath of the flat.
Accidents change lives immediately. If you're involved in an accident where you or a loved one is injured, Stokes & Kopitsky can help. We will work with you every step of the way to help you receive compensation to make you whole again. Call us today.