Pedestrian Hit on South Marietta Parkway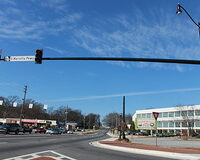 It may surprise you to find out that in auto-pedestrian accidents, each party has about a 50% shot of being the person at fault. Pedestrians and drivers can both contribute to an accident. Pedestrians may have the right-of-way, but if they do not respect traffic then they could be held liable for damage. Jaywalkers are especially prone to causing accidents.
That's what may have happened in a pedestrian accident on South Marietta Parkway this morning. According to the police, a woman was walking down the center lane of this busy road. As she was walking, a car clipped her going by, knocking her into the path of a van. The van struck her before she could get out of the way.
The van stopped to help her and call authorities. The victim is currently in the hospital and the police are looking for the driver that ran away. Since this case is now a hit-and-run, the fault of the injury is going to fall squarely on that first driver. The driver of the van is unlikely to face any charges due to the circumstances.
However, other cases are not so cut-and-dry. That's why it's important to have an experienced injury attorney on your side. If you have been injured in Georgia, the lawyers of Stokes & Kopitsky can help. We've helped recover millions for our clients. Take a look at our successful case records, then give us a call at the number at the top of the page.