MARTA Bus involved in a 4 Vehicle Traffic Accident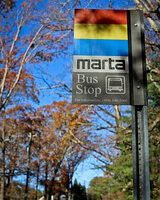 Any kind of traffic accident is bad, but when it involves a bus the potential for mass injuries increases. Earlier in January, a MARTA bus hit a disabled vehicle on Southbound I-85 in Clayton County on a cold Friday morning. The accident resulted in a four vehicle incident that was spread across the two right hand lanes on the road.
It's unclear what happened to make the Atlanta public transit vehicle strike the other vehicle that day. The driver was said to be fortunate enough not to be injured as a result but the status of the drivers and passengers of the other 3 vehicles is unknown.
Thankfully, the bus was actually passenger-free at the time of the crash. But statistics show that this isn't always the case with thousands of other crashes that involve buses up and down the country. There are supposedly 360 million bus passengers each year. This number is hardly surprising as travelling by bus is often a cheaper and more efficient means of transport as opposed to walking, cycling or getting a taxi. But with so many buses in circulation, there are bound to be many accidents. The Federal Motor Carrier Safety Association reported 11,000 bus vehicles involved in crashes during 2008. These resulted in 24,000 injured people.
The simple matter is that when we step on to a bus or any other public mode of transport, we're placing our lives in the hands of the driver. If you've been injured as a result of an accident whether it took place while you were riding the bus or driving your car, we can help to make sure you receive full compensation to rebuild your life and take care of you and your family after an accident. Call Stokes & Kopitsky today for more information.