Hit and Run Offender Charged with Murder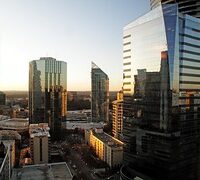 Accidents happen every day across the city, but when someone injures someone deliberately that raises things to an entirely different level. That's what police say happened in southeast Atlanta last Sunday when a woman got hit by a car at Gartrell Street and Boulevard.
Police say that the 53-year-old woman who was killed deliberately by the driver of the car, a 63-year-old man. Witnesses say that the man revved the engine, drove the car toward the sidewalk and jumped the curb, striking the victim. It was also reported that the driver had a previous fight with the deceased about three weeks ago.
Witnesses pulled the man out of the car and held him until police arrived. He has been charged with aggravated assault and murder, and was taken to Grady for treatment before being taken to the Fulton County Jail. Records show that the man was charged with several other offenses in the past.
Our hearts go out to the mother of 10 who died in this incident, and we hope that they are able to get the justice they need. Anyone could accidentally kill someone and have to face a wrongful death suit, but deliberately killing someone will almost surely cause a civil court to award the victims damages, should the court decide that financial compensation is needed for the survivors.
If someone in your family has been the victim of a wrongful death, you may need help covering all their expenses. Stokes & Kopitsky is ready to help you if you decide to file a wrongful death case or any other kind of personal injury claim. Call our offices for more details.