Hit and run just makes it worse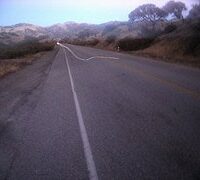 People can do some strange things after an accident. Whether it's fear, the shock of the crash, or just a general lack of sense, they can end up making mistakes that can cost them down the line. One man found that out last month.
The man was charged with causing a chain-reaction crash. The man called the police, but he did it an hour after the crash and after he drove about 10 miles from the scene. According to police, he was driving an RV southbound on I-75. While switching lanes he struck the back of a Camry hard. The Camry crossed all the lanes and hit three other vehicles. One of the vehicles was a Prius, and that one struck the median wall and flipped, killing a passenger.
Police say that the suspect could have seen the whole thing happen but didn't stop at the scene. He's been charged with first degree vehicular homicide and hit-and-run, among other charges. His defense lawyer is already going to bat with him in the media, saying that he did stop and called the police.
If you have been injured in a hit-and-run accident, the lawyers at Stokes & Kopitsky are ready to help you out. Give our offices a call. We represent injury victims all over the Atlanta Metro area.