Dealing with a Construction Site Accident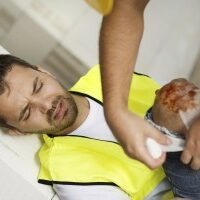 Table of Contents:
Construction Accidents are a Dangerous Reality
Construction work can be one of the most dangerous professions. Although major advances in technologies, tools, equipment, and practices – along with improved regulations and laws – have significantly reduced certain safety risks in the construction sector, it is still recognized as one of the top high-risk sectors in the world.
According to the Occupational Safety and Health Administration (OSHA), 1 out of 10 construction workers experience a work injury, with fall hazards ranking as the top cause of injuries on job sites. The Bureau of Labor Statistics (BLS) reports that as many as 150,000 construction site injuries happen annually, with falls and contact with equipment accounting for the majority of these cases.
Construction accidents and injuries often occur due to negligence. In every workplace, including construction sites, safety is the responsibility of everyone, including the employers and the workers. However, a common theme among a significant number of injuries due to construction accidents is the negligence on the part of the employer. Construction accidents are more likely when employers cut corners or even ignore safety regulations.
When you work in construction, you should be confident that when you show up to a work site, your personal safety has been considered and is valued by your employer. Business owners / employers are responsible for ensuring that workplace safety is a priority, including ensuring that risks are carefully assessed, evaluated, and minimized (or eliminated), and that appropriate precautions and measures are put into place.
Pages: 1 2