Boy Injured At Atlanta Braves Game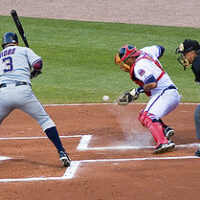 It's an unfortunate fact that accidents can happen anywhere, at virtually any time. While many of these accidents are essentially faultless, all too many of them are because of the actions or inaction of another. In those cases, the victim should not be responsible for the costs incurred through no fault of his or her own. This includes medical bills, repair bills, and a host of other expenses that can arise from an accident.
A young boy was hurt at an Atlanta Braves game when a foul ball hit him in the head.
According to a Braves spokeswoman, the young fan was injured but did not lose consciousness. After being treated on-site, he was taken to the hospital for further evaluation and treatment.
The Major League Baseball website says the impact of the ball could be heard throughout Turner Field when the foul ball struck the unidentified boy. It was lined into the seats behind the Braves' first-based dugout in the seventh inning.
The batter was clearly upset by the incident and took a knee at the plate. Other players appeared deeply affected, as well.
If you or a loved one have suffered an injury through the actions of another, we can help you at Stokes & Kopitsky. Call us today for a free consultation — you don't need any money at all for our services. Any fees assessed come out the settlement we help you achieve.