Atlanta Train Accident Lawyer at Stokes & Kopitsky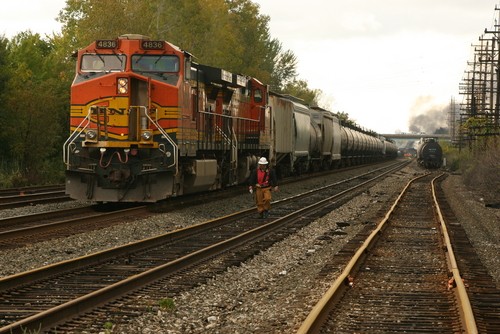 Stokes & Kopitsky, P.A. have established themself as leading Atlanta train accident lawyers, having represented numerous victims injured in train or car-related accidents in metro Atlanta. We are proud to serve victims and families who suffered irreparable harm in roadway collisions throughout Georgia.
Although rare, train accidents receive more attention than other roadway collisions due to the number of victims involved. The force of hundreds of tons of steel approaching at high velocities has made many unhappy endings in fiction and real life. Anna Karenina is only one famous protagonist who ended her life under a rail car; tougher characters in Zola and Gogol met the same fate. In American silent movies, the speediness with which a man can unbind a woman from the tracks of a moving locomotive is the stuff of which heroes are made. In real life, however, rescue from an impending train wreck is not so simple.
According to the U.S. Department of Transportation, there are about 5,800 train crashes each year. Every 90 minutes, a train collides with a pedestrian or vehicle. These accidents cause about 1,000 deaths and injure close to 2,300 people. More than half of all train-related fatalities occur at inadequately-marked crossings. The Department of Transportation's (DOT) Federal Railroad Administration estimates that a significant majority of railroad crossings lack adequate warning devices. Beleaguered rail companies have likewise invested little in updating safety technology developed 70 years ago. Derailment and collisions between trains, cars, other trains, and pedestrians result in devastating damage to persons and property.
Today, the most common causes of train accidents include:
Human Factors (Accident, Suicide, Trespassing)
Track Defects and Derailment
Equipment Defects
Signal Defects
Inadequately-Marked Crosswalks
Miscellaneous Causes
Georgia law provides strict guidelines for maintaining railroad crossings. The Official Code of Georgia Annotated (OCGA) §§32-6-190, 202, & 203 require railroads to comply with local government's requests to maintain a crossing. Failure to improve the crossing to the government's satisfaction can lead to a fine and imposition of a civil penalty by Georgia's DOT. The DOT can also order the railroad to perform the required maintenance. OCGA §40-5-151 likewise sets forth special regulations for commercial drivers who commit railroad grade crossing offenses. Specifically, drivers will be disqualified from operating a commercial motor vehicle if they fail to do any of the following:
Slow down and check the tracks for any approaching train
Stop before reaching the crossing
Stop before driving onto the crossing
Leave sufficient space to completely pass the crossing without stopping
Obey traffic-control devices or directions of a law enforcement official at a crossing
Negotiate a crossing due to insufficient undercarriage clearance
Further, the Federal Employers Liability Act (FELA) permits railroad employees injured in train accidents to sue their negligent employers for damages. FELA allows employees to bypass Worker's Compensation laws in recovering both compensatory and punitive damages for work-related injuries.
If you or someone you know was injured in a train accident, an attorney experienced in personal injury and product liability law can help. At Stokes & Kopitsky, P.A., we have over 30 years' experience assisting victims and families who suffered irreparable harm as a result of railroad collisions. Our dedicated Atlanta train accident attorneys are here to help. Call 800-700-5050 for a free consultation or Contact Us online.
Related Topics: