A Checklist for Victims of a Fatigued Driver Accident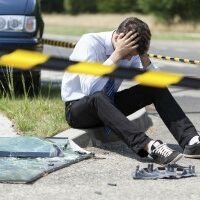 Rest and sleep are important for overall health. Go a day without adequate rest and you not only feel tired, but your cognitive abilities are also compromised. These factors can combine to cause driver fatigue and result in a considerable number accidents.
When drivers are fatigued, they have compromised judgment, lower attention, and slower reaction time making them liabilities on the road. A recent study conducted by the AAA Foundation for Traffic Safety found that driver fatigue is responsible for one in six — or 17 percent – of fatal car accidents.  In fact, nearly one-quarter of adults (23%) say they know someone personally who has crashed due to falling asleep at the wheel.
Check to see if you or your passengers are injured. If there is any indication of injury or pain, call for medical help. If possible, check the other drivers.

Immediately dial 911 and summon the police to the scene of the accident – regardless of whether or not there are injuries.

If possible, quickly obtain all information about the other drivers involved. Get names, tag numbers, driver's license numbers and insurance information. Most importantly, get names and contact information of any independent witnesses. Witnesses can make the difference in your case.

When the dust settles, look at the accident scene. Note where your car is located and where other cars are located. Look to see if anything else could have contributed or caused the accident. Look for pieces of the vehicles. Write down your impressions as soon as possible.

Use a camera or your cell phone to take photos. Capture the moment in pictures. Be sure to take photos of the damage to their cars as well as the scene.

Contact an experienced Atlanta injury attorney for a consultation.
Did your accident happen on a high-speed, long, boring, rural highway? Did your crash occur between 4:00 – 6:00 a.m., midnight – 2:00 a.m., or 2:00 – 4:00 p.m.?  Do you suspect driver fatigue played a part in your car accident?  Atlanta injury attorneys at Stokes & Kopitsky are waiting to discuss your case with you and decide on the next steps to take to receive compensation for medical bills, lost wages, and pain and suffering.  Contact us today for a free consultation.