13 Injured in Deck Collapse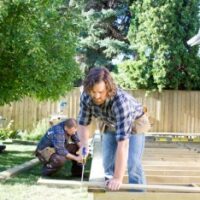 Accidents and injuries are an unfortunate part of life. They happen in the blink of an eye, and are all too often caused by the carelessness or negligence of another person. The aftermath of these events leaves behind physical injuries, emotional trauma, and damages, all of which take time and money to repair and recover. Insurance companies are not always willing to pay the full amount necessary. Legal assistance is necessary after an accident to insure financial hardship does not accompany the physical and emotional losses brought about by the incident.
Almost a dozen people were taken to the hospital after a deck fell during a party in suburban Atlanta.
According to authorities, the deck collapsed on a house in Stone Mountain on a Saturday night. Witnesses said there was also a grill on the deck, which may have burned a number of people when the deck crumbled.
A fire captain said the deck may have fallen due to poor construction. Authorities said thirteen people had minor injuries, but three of them did not wish to be treated at the time.
An injury, even if minor, is often a matter of concern. We have extensive knowledge in both the medical and legal fields at Stokes & Kopitsky. Contact us today for a free consultation. You don't need any money to hire our services, because our fees are only paid through any money we recover for you. We've recovered more than $100 million in verdicts and settlements, and we'd like to do the same for you.