Tragic Playground Accident Takes Life of 3-Year Old Boy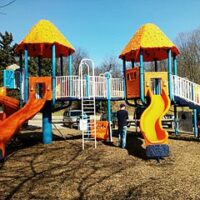 Nothing is more precious to anyone and to society as a whole than the wellbeing of children. Unfortunately, children can fall prey to negligence or carelessness, just like anyone else. The danger is even worse for them, because the very young don't know what to watch out for. When they come to harm, those who allowed it to happen must absolutely be held responsible so it never happens to another child.
The death of a 3-year-old boy at a daycare center in Alpharetta was ruled an accident by police. Officially, the cause was accidental asphyxiation from hanging, according to the Fulton County Medical Examiner.
A length of twine shaped like a loop was at the top of the slide, said the public information officer for the Alpharetta police department. The child's head got inside the loop when he was sliding down and the caregiver had gone inside for a moment. When she turned around to check on the child, it was too late.
According to the public relations officer, the caregiver attempted CPR until first responders were on the scene. Paramedics took the boy directly to the hospital, but he later died.
Neighbors claimed the caregiver was an excellent mother and daycare teacher. They were shocked to learn what had happened.
Police are not ruling out charges of negligent homicide in the future.
The caregiver and her family have not returned to the home, being too distraught to live there for the time being. In the meantime, the Georgia Department of Early Care and Learning has closed the daycare center on unspecified "serious violations".
If you or a loved one have been harmed through the carelessness or negligence of another, you deserve legal compensation. We can help you get it. Call Stokes & Kopitsky right away. You won't be billed by us until you get your settlement