Intentional Hit & Run Leaves Cyclist Seriously Injured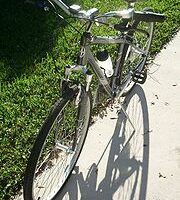 When rage becomes uncontrollable people sometimes do foolish things that they probably would not do if given time to cool down and think. Apparently rage got the best of an Atlanta man recently. He became so angry at another man; he intentionally hit him with his SUV while the man was riding a bicycle. Now the driver of the SUV faces very serious charges including criminal attempt to commit murder.
Greg Germani was riding his bike down an Atlanta street when Joseph Alan Lewis intentionally hit him and then left the scene. Germani was critically injured in the crash.
The investigation led to a red Dodge Nitro and two people, Lewis and a 22-year-old female Shanelle Woodard. Police issued warrants for the arrest of both individuals. Woodard turned herself in on a Wednesday and was charged with tampering of evidence. Lewis turned himself in the next day and was charged with criminal attempt to commit murder, aggravated assault, first degree criminal damage to property, aggressive driving, serious injury by vehicle and reckless driving.
Although this is a criminal matter, there is also an element of personal injury in this accident and the victim, Greg Germani, is entitled to compensation that will reimburse him for medical bills, lost wages, pain and suffering, among other things.
The question in a case such as this is what will the auto insurance company for the man who has been charged with attempted murder say to a claim of personal injury.
Personal injury cases are often complicated with simple fender benders so when an injury as severe as this one occurs and the person responsible is charged with such a serious crime it is a good idea to contact an expert in personal injury as soon as possible. This will be uncharted waters for attorneys who do not practice personal injury full time.
A case such as this is an intentional tort and therefore a civil action should be filed for compensation of injuries. A personal injury attorney would work with the offender's insurance company for coverage and if the claim is denied or cannot be settled then a civil suit would be filed.
Accidents change lives immediately. Stokes & Kopitsky are experts in personal injury and promise to work with you every step of the way to help you receive compensation to make you whole again if injured in an accident. Call us today for a free consultation.