Atlanta Work Injury Lawyer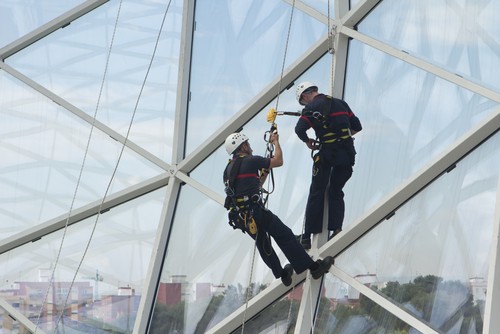 Stokes & Kopitsky, P.A., nationally recognized Atlanta work injury lawyers, has a proven track record of successfully representing individuals and families throughout Georgia. We understand that a work injury does not result only in physical harm, but also economic and emotional detriment for which the victim and family should be compensated. Our priority is therefore to provide you with customized representation to ensure you receive compensation that will cover any costs that arise from your injury. We encourage all persons looking for a lawyer to view our case results and client testimonials.
We can help you with the following types of cases:
The Bureau of Labor Statistics recorded over three million cases of nonfatal injuries. These included sprains or tears, back injuries, and falls while on the job. Some workers never recover from their injury, remaining permanently disabled and unable to contribute to the maintenance of their family. According to the Secretary of Labor, twelve people go to work every day but never come home. Of more than 4,500 workplace fatalities recorded last year, almost one-fifth occurred in construction, where the leading causes of death included falls, electrocutions, and either being "struck by" or "caught between" objects. The Occupational Safety and Health Administration (OSHA) sets forth standards for workplace safety.
The ten most cited violations of OSHA standards leading to work injuries included:
Scaffolding
Scaffolding are temporary platforms built on construction sites that allow workers and materials to be elevated. According to the US Department of Labor, 2.3 million construction workers use scaffolds. If scaffolding is poorly constructed, not properly maintained, or has faulty parts, injury or death may result. In fact, there are about 4500 injuries and more than 60 deaths that are caused by scaffolding, and like your accident, the vast majority were the result of negligence.

Slip and Falls
Slips and falls are some of the most common accidents that occur on the job. Serious injuries can result, such as broken bones, spinal injuries and soft tissue injuries. You may have even suffered from a permanent negative effect on your well-being, such as chronic pain and migraines. You can seek compensation for short-term and long-term injuries.

Failure to communicate hazards
It is the responsibility of your employer to communicate to you any possible hazards that exist in your workplace. This is for your safety. They failed to do this, and as result you were injured. We can help you prove that your employer's negligence to inform you of the hazards is what led to your injuries.

Ladders
To protect the safety of employees, the proper use of ladders and adequate ladder fall protection systems in workplaces are required by the US Department of Labor. Unfortunately, ladder accidents remain a leading cause of injuries. If you've been injured due to the use of an extension ladder, stepladders, or portable ladder, you may be able to get compensation.

Respiratory protection
If you are required to wear a respirator on the job, your employer is required by law to have a respiratory protection program in place. However, you may have still been exposed to harmful gases, dust, smoke, or other respiratory hazard and you have become sick as a result. Sometimes, you may notice the signs of sickness years later, which is typical of fatal diseases such as lung cancer and mesothelioma. However, our experienced lawyers can help you prove that it was still caused by your workplace.

Control of hazardous energy, including "lockout" or "tag-out"
"Lockout" or "tag-out" refers to the procedures that are put in place to protect employees from the release of hazardous energy during the use or maintenance of machinery. Machinery that unexpectedly starts up can cause serious or fatal injury, and employers must outline steps that you, as an employee, are required take to prevent this from happening.

Electrical wiring methods
Violations related to electrical wiring methods are frequently reported. These put you in danger of being hurt or even killed.

Powered industrial trucks
Statistics indicate that powered industrial trucks, such as forklifts and dump trucks, are blamed for almost a hundred thousand injuries every year. It is believed that with proper training and standardized safety procedures, the majority of these accidents could be prevented.

Electrical systems design
Injuries caused by faulty electrical systems design can cause severe injury and may be fatal. Electrocution is one of the leading causes of death on construction sites.

Machines and general requirements
Machinery – such as power presses, guillotine cutters, power saws, etc. – must have methods of machine guarding put in place by the employer. This protects employees from rotating parts, sparks and other hazards when in use.
OSHA records weekly fatalities and catastrophes requiring the hospitalization of three or more workers.
Work injuries can be serious or even fatal, exemplified by recent incidents where workers were found:
Unconscious while installing an underground cable
Burned and asphyxiated from a storage facility fire
Killed by a dump truck that overturned and rolled down a hill on top of the worker
Exposed to hydrogen sulfide inside a sewer tank
Falling from the roof of a construction site
Fatally injured by explosion of flammable liquids
Electrocuted by a power line
Struck by a vehicle
Georgia's Workers' Compensation laws protect workers who are injured, become ill, or die in the course of employment. Workers' Compensation begins on the first day of employment and provides benefits to employees and dependents resulting from a compensable work-related claim. The Official Code of Georgia Annotated (OCGA) § 34-9-81.1 sets forth certain rights for injured workers in the State of Georgia, including compensation for the following costs:
Medical, rehabilitation, and income benefits for you and your dependents
Authorized doctor bills, hospital bills, and physical therapy
Weekly income benefits if you are out of work for more than seven days
Two-thirds of your average weekly wage up to a maximum amount prescribed by law for a catastrophic injury such as amputation, paralysis, head injury, severe burns, or blindness
Weekly benefits if you return to work but can only get a lower-paying job
Reasonable burial expenses for dependents that die in an on-the-job accident
Payment for a widowed spouse until she remarries or cohabits with another person of the opposite sex
If you have been injured in a work-related accident, you may be entitled to compensation. Report your accident immediately to your supervisor and seek legal assistance from a qualified attorney. Stokes & Kopitsky, P.A. have decades of experience representing injured workers and their families and has recovered millions of dollars in work-related claims. Speak to an experienced Atlanta work injury attorney today by calling 404-892-0011 or contacting us online.
Related Topics: