Premises Liability Attorney in Atlanta, Georgia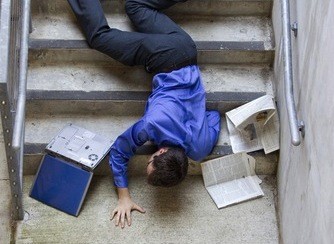 Whether you have been harmed by a dangerous obstruction or slip and fall, our leading Atlanta premises liability law firm attorneys can evaluate your case to identify liable parties and recover compensation for medical expenses, lost income, and other costs arising from your injury.
Stokes & Kopitsky, P.A. is dedicated to serving victims and families who have been injured or affected by the negligent maintenance or operation of property.
Check our client testimonials and case results page.
We handle the following Premises Liability cases:
What is premises liability?
Premises liability refers to the owner or occupier's legal responsibility to persons injured on the property. This is a burgeoning area of law because it implicates not only business entities and commercial owners, but residential property as well. Apartments, houses, and condominium complexes are common sites of slips, trips, and falls.
However, lawsuits against businesses outnumber those against private parties. Wal-Mart, for example, is the largest retailer in the world. More than 100 million customers walk through its 3,000 stores each week. Of these customers, approximately 1,000 are injured each day, slipping on the floor or being hit by falling merchandise. Although most of these incidents go unreported, the retailer sees an average of 3,550 suits each year. Indeed, the number of premises liability suits has increased, along with the frequency of prevailing plaintiffs and median compensatory awards.
What factors are considered in premises liability?
In determining premises liability for an owner, courts consider the following factors:
Creation or allowance of a dangerous or defective condition to exist on the premises
Failure to properly maintain or manage the premises to avoid exposing people to an unreasonable risk of harm
Creation of natural or artificial conditions on the premises that result in injury
Failure to adequately inspect the property for potential dangers
Failure to warn people of dangers the owner knew or should have known were present
Whether the party injured was an invitee, guest, or trespasser
Under Georgia law, owners have duty to exercise ordinary care to prevent "recklessly or wantonly" injuring a licensee. The Official Code of Georgia Annotated (OCGA) §51-3-2 provides:
Owners and occupiers of land are liable in damages to persons they expressly or impliedly invite or induce to come upon their premises for any lawful purpose if those persons' injuries were caused by the owner or occupier's failure to exercise ordinary care in keeping the premises and approaches safe.
According to this law, owners and occupiers have a "non-delegable" duty to people who cross their property. They are generally liable for dangerous conditions such as slippery floors, walkway obstructions, gaping holes, unmarked dangers, and negligently maintained parking lots, stairways and driveways. Accordingly, owners cannot shirk responsibility by blaming the maintenance crew, landscaping company, or management service they hired to work on their property. They are free to file a cross-complaint against third parties, but they still remain liable in the suit. Further, because the law requires owners to keep the "approaches" safe, they are still liable if a customer trips over a door sill, patch of ice, or stray piece of lettuce upon entering the premises. The same holds true for assaults committed in parking garages, stairwells, and common areas of the property.
How to know if you have a valid claim
The best thing to do is to consult us for a free case evaluation. You should know that there are a few things to consider when determining the validity of a claim:
What type of injury do you have? What are your expected medical costs?
What were the hazardous conditions that caused you to have an accident?
Can you prove that the hazardous conditions were caused by the property owner's or occupier's negligence?
Are there any witnesses?
We'll ask you these questions, and many more. Based on the information you provide, we'll then be able to better determine what kind of case you have, the most effective method of legal action that should be undertaken and what you may be able to get as compensation.
Talk to an experienced attorney about your case for free
If you or someone you know was injured due to a dangerous condition on property, our experienced attorneys can help. For over thirty years, Stokes & Kopitsky, P.A. has assisted victims in premises liability claims in and outside of Georgia. Call for a free consultation with one of our caring Atlanta premises liability lawyers or Contact Us online.