Motorcycle Accident Lawyer in Atlanta, Georgia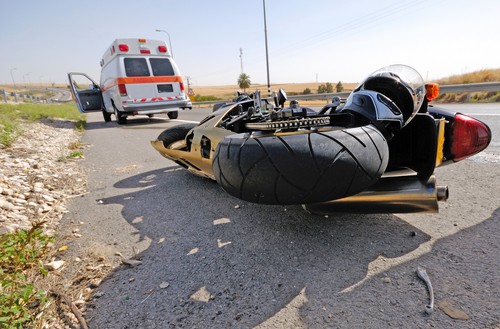 Motorcycles are an expedient, fuel-efficient mode of transportation. And they can be fun to drive. Sadly, the Centers for Disease Control and Prevention estimate that 30 people in the United States are killed in motorcycle crashes each day. That translates to one death every 48 minutes. Of the 55,000 injuries caused by motorcycle accidents each year, a staggering 80% result in death.
Common causes of motorcycle accidents
Even the most careful motorcycle driver is likely to have some close calls on the road. That is because motorcycle riders must share the road with negligent drivers who fail to safely operate their vehicles. Distracted drivers often do not anticipate the speed and hastiness of an approaching motorcycle, discovering its presence too late.
Negligent driving can be caused by many factors, ranging from criminal recklessness and inebriation to a few seconds of distraction. Many people might believe that most motorcycle accidents are caused by riders, but this is rarely the case. More often than not, such accidents are caused by other drivers, and in particular, drivers of cars and trucks who didn't see the motorcyclist near them either because of poor weather conditions or a blind spot. That's why one of the most common causes of an accident is a driver of a car turning into a motorcyclist.
Because motorcyclists are more exposed and less visible to drivers, they bear the most serious injuries in the event of a collision. It is no wonder motorcycle fatalities outnumber motor vehicle fatalities and other accidents in Georgia.
Understanding Georgia Motorcycle Laws
The Official Code of Georgia Annotated (OCGA) §40-6-77 penalizes motor vehicle drivers who cause serious injury to motorcyclists due to a right of way violation. A serious injury includes the following:
Bodily Harm
Dismemberment
Paralysis
Disfigurement
Paraplegia
Organic Brain Damage
Drivers who fail to yield the right of way and cause a collision resulting in serious injury to the motorcyclist are guilty of a misdemeanor punishable by a fine or imprisonment upon a second offense.
Georgia's mandatory helmet law is codified in the Uniform Rules of the Road. Article 13 provides: "No person shall operate or ride upon a motorcycle unless he is wearing protective headgear." The Georgia Department of Driver Services requires a Class M license to legally operate a motorcycle in Georgia. The Official Code of Georgia Annotated (OCGA) §40-6-11 forbids motorcycle riders from operating–or allowing any other person to operate–a motorcycle without liability insurance. The amount of insurance must cover bodily injury and property damage liability. This protects the motorcycle driver in the event of an accident.
You don't have to pay anything unless you win
If you were injured in a motorcycle accident caused by the negligence of another driver, an experienced Atlanta motorcycle accident lawyer can help. At Stokes & Kopitsky, P.A., we understand that being injured or losing a loved one is a traumatic experience. That is why we go the extra mile to provide you with our undivided attention and fight for your case so you can focus on your healing.
We're confident that we'll get the compensation you deserve, which is why you won't have to pay us anything for all of the legal work we do unless you win.
For over thirty years, we have successfully handled motorcycle injury cases, recovering settlements for victims throughout Georgia. We look forward to providing you with the highest quality legal representation. Contact Us to arrange a free evaluation of your case.
Related Topics: