Atlanta, Georgia Bicycle Accident Attorneys
Compensation for bicycle accidents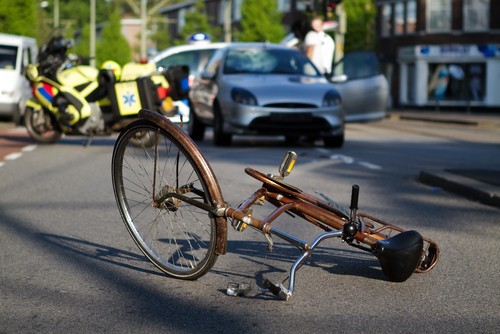 If you have been injured in a bicycle accident, you may be entitled to compensation for your injuries. The experienced attorneys at Stokes & Kopitsky, P.A. have helped victims of bicycle accidents to file claims against and recover damages from the parties responsible for their injuries.
Bicycle accidents can have devastating effects on both the victim and their family. Injuries from bicycle accidents can result in financial hardship or major life changes. These consequences may qualify you to seek compensation. Stokes & Kopitsky has recovered significant compensation for victims of bicycle and motorcycle accidents in Atlanta and throughout Georgia.
For more information, review our results, and call us at 800-700-5050, or use our online contact form to schedule an appointment. The consultation is free and carries no obligation.
Cyclists and the Danger of the Road
Due to the mechanics of bicycles, cyclists are at a higher risk for injury and death than other motorists. Bicycles don't offer the same protection as a car, and can often be less visible to drivers. In addition, some drivers don't give cyclists the 3-foot clearance required by law. Even if a cyclist is wearing a helmet and padding, he is not completely protected in the event of an accident.
Understanding the Rules of the Road
The state of Georgia has laws in place to protect cyclists who are injured by reckless or negligent drivers. In Georgia, bicycles are classified as vehicles, and therefore traffic laws apply to them. All traffic laws, except those where "motor vehicle" is specified, apply to bicycles.
The Official Code of Georgia Annotated (OCGA) sets the following rules for bicyclists:
Riders under the age of 16 must wear helmets

Cyclists must remain as far to the right as possible

Cyclists must ride along with the flow of traffic

Cyclists must not ride more than two bicycles side-by-side

Cyclists must not operate their vehicle while intoxicated

Cyclists must always keep at least one hand on the handlebars

Cyclists are required to use hand signals for stopping and turning
Relevant sections of the OCGA involving cyclists include OCGA §40-6-294, 40-6-55, and 40-6-56.
Common Bicycle Accident Injuries
Due to the unprotected nature of bicycles, cyclists involved in accidents with a motor vehicle commonly sustain more severe injuries than those inside the motor vehicle. If the accident does not result in a fatality, the cyclist may still suffer permanent or long-term damage resulting in medical bills of up to hundreds of thousands of dollars.
Common bicycle accident injuries include:
Traumatic Brain Injury (TBI): Bicycle accidents which involve head impact may result in the victim suffering a traumatic brain injury. TBI patients can face a long-term recovery process, permanent disability, or even death. Brain damage from a TBI tends to be irreversible, so prevention by wearing a helmet of TBI is crucial for all cyclists.
Spinal Injury: Bicycle accidents where there is a severe impact, such as when the cyclist is thrown from the bicycle, can result in a spinal injury. Spinal injuries occur when the vertebrae in the spine have been fractured, damaged or dislocated. These injuries may cause nerve damage, resulting in death or paralysis, either temporary or permanent.
Broken Bones: Bicycle accidents may also result in broken bones. Cyclists have little protection and being involved in an accident can cause bones to fracture.
Soft Tissue Injuries: Bicycle accidents commonly result in soft tissue injuries for those involved. These may include bruises, cuts, strains, scrapes, abrasions, tears, or tendon damage resulting from an accident. Road rash is a common example of a bicycle accident soft tissue injury. Insurance companies, at times, negate the severity of soft tissue injuries, even though some can cause debilitating pain and require expensive treatment and recovery time.
If You're Hurt in a Bicycle Accident
If you are involved in a bicycle accident, you should take the following steps:
Call for help. First responders will document the accident, ensure that you get assessed by medical professionals, and call the necessary authorities.

Seek medical treatment. Even if, initially, you don't believe you have been injured, or only have minor injuries, your priority should be to take care of your health and be seen by a medical professional.

Exchange names and contact information with any other parties involved in the accident, as well as with any witnesses. Take as many photographs of the accident as possible. Be careful not to touch or move anything, including your bicycle, until after the police arrive and give you permission. When the police arrive, speak only with them and not to the other people involved in the accident. Be honest and straightforward about what happened, sticking to the facts.

Call your insurance company and report what happened as soon as possible. Again, be honest and straightforward, sticking to the facts of the accident. It's important never to speak to the insurance company of the other party, they will record your calls and look for ways to help their customer's interests.
Call a Georgia Bicycle Accident Attorney
If you're hurt in a bicycle accident, it's essential that you secure the services of a Georgia bicycle accident attorney. An attorney can help you make sure your rights are protected and get you compensation for your lost wages, medical bills, future compensation, loss of relationships and companionship, pain and suffering and more.
If you're in this situation, call Stokes & Kopitsky, P.A. at 800-700-5050, or use our online contact form to schedule a free case review today.
Related Topics: