Suspect in Fatal DUI Hit-and-Run Identified, Extradition Sought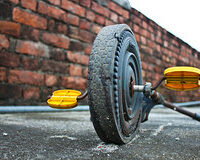 Those who hurt other people in accidents owe far more than whatever legal penalties they face. When they crash their car through someone's wall, someone has to pay to repair that wall, and perhaps pay for alternate lodgings or lost business for the building so damaged. When these people cause injury, the victim should not have to pay for the medical bills. It is the responsibility of the person who caused the injury. The fight of a personal injury lawyer is all about making sure those who victimize others through their carelessness face up to that responsibility.
A suspect in a hit-and-run case that killed a small child and injured another has fled the country, according to DeKalb County police.
The 57-year-old driver has been identified by police by the truck he left behind. Using surveillance video, they were able to track the truck and they believe it was this truck that killed a 2-year-old boy and injured his 4-year-old sister.
The children were at an entrance to a Walmart store, waiting for an opportunity to cross the street when the car hit them and just kept going.
DeKalb County detectives collaborated with federal authorities to verify the suspect had departed the United States by boarding an Atlanta flight to El Salvador.
There are warrants for the driver's arrest on counts of felony hit-and-run and federal authorities are working with the El Salvador government to have the driver found and extradited.
If you or a loved one has been harmed by the carelessness or negligence of another, you can find help by calling the office of Stokes & Kopitsky. We are available 24 hours a day, 7 days a week to make sure you get the compensation you need in a difficult time of your life. Call us right away and let us fight for you.