Atlanta Car Accident Lawyers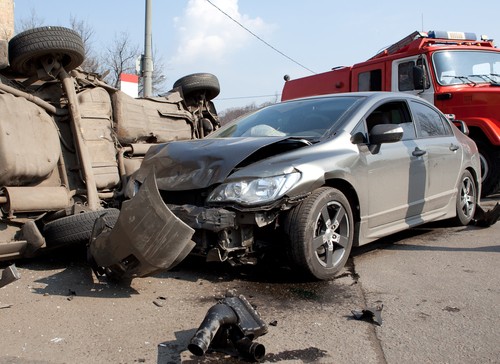 Stokes & Kopitsky, P.A. has distinguished itself as a leading Atlanta auto accident law firm by providing stellar representation to auto accident victims in Georgia. These experienced car/auto accident attorneys have recovered millions of dollars in compensation for victims and their families who suffered loss or injury as a result of an automobile accident. Please take a minute to read our car accident interview with founding member Greg Stokes, our client testimonials and our case results pages.
We handle car accident cases including:
Under Georgia law, automobile accidents are governed by general principles of negligence. Liability is premised upon an individual's duty to safely operate a motor vehicle. The driver, for example, has a duty to exercise reasonable care in operating her automobile. Likewise, employers and parents have a similar duty to ensure that the employees or children to whom they entrusted the vehicle are not reckless drivers. A victim injured in an auto accident may thus have a claim not only against the driver, but also against the owner of an at-fault vehicle. If the victim died in the accident, his or her family members may have a claim for wrongful death against both parties. The fault assigned to owners by proxy is known as "vicarious liability" and may result in damages arising from the owner's negligent entrustment of the vehicle.
While the duty of drivers and car owners are the most evident, other factors may contribute to the accident, giving rise to separate claims of liability. Georgia's "Dram Shop" laws are one example, holding business owners liable for serving alcohol to minors or clearly intoxicated adults. The victim of an auto accident may have a claim against contractors for negligently constructing a road, leading to hazardous driving conditions; against the government entity that failed to safely maintain the road; even against the police department that endangered motorists by unsafely diverting traffic or driving recklessly in a high speed chase. Motorists can also bring a product liability claim against car manufacturers for producing defective parts or for failing to recall vehicles they had reason to believe were unsafe.
Drivers negligently operate motor vehicles for a variety of reasons. They may be tired, distracted, angry, aggressive, or impaired. The Official Code of Georgia Annotated (OCGA) sets forth uniform "road rules" providing civil and criminal liability claims against reckless drivers. Victims of automobile accidents have legal recourse to damages resulting from another motorist's negligence, including severe criminal penalties for driving under the influence of alcohol or drugs. Because there may be multiple people at fault for an accident and liability can range from negligence to vehicular manslaughter, it is important to have a knowledgeable attorney to help you evaluate potential causes of action and fight for the compensation you deserve.
Founding members Greg Stokes and Neil Kopitsky have over 30 years of experience assisting automobile accident victims. At Stokes & Kopitsky, P.A., we are dedicated to lessening the traumatic impact of a car accident by providing our clients with caring, compassionate representation. We will evaluate your case for free and never charge attorney's fees unless we win your case. We have recovered millions of dollars in verdicts and settlements and continue to fight for our clients so they receive the compensation they deserve.
If you or someone you know has been injured in an automobile accident, contact the law office of Stokes & Kopitsky, P.A. by calling 404-892-0011or fill out our online Contact Us form to schedule a free consultation with an experienced Atlanta auto accident attorney. We look forward to discussing your legal options and helping you obtain a legal recovery.